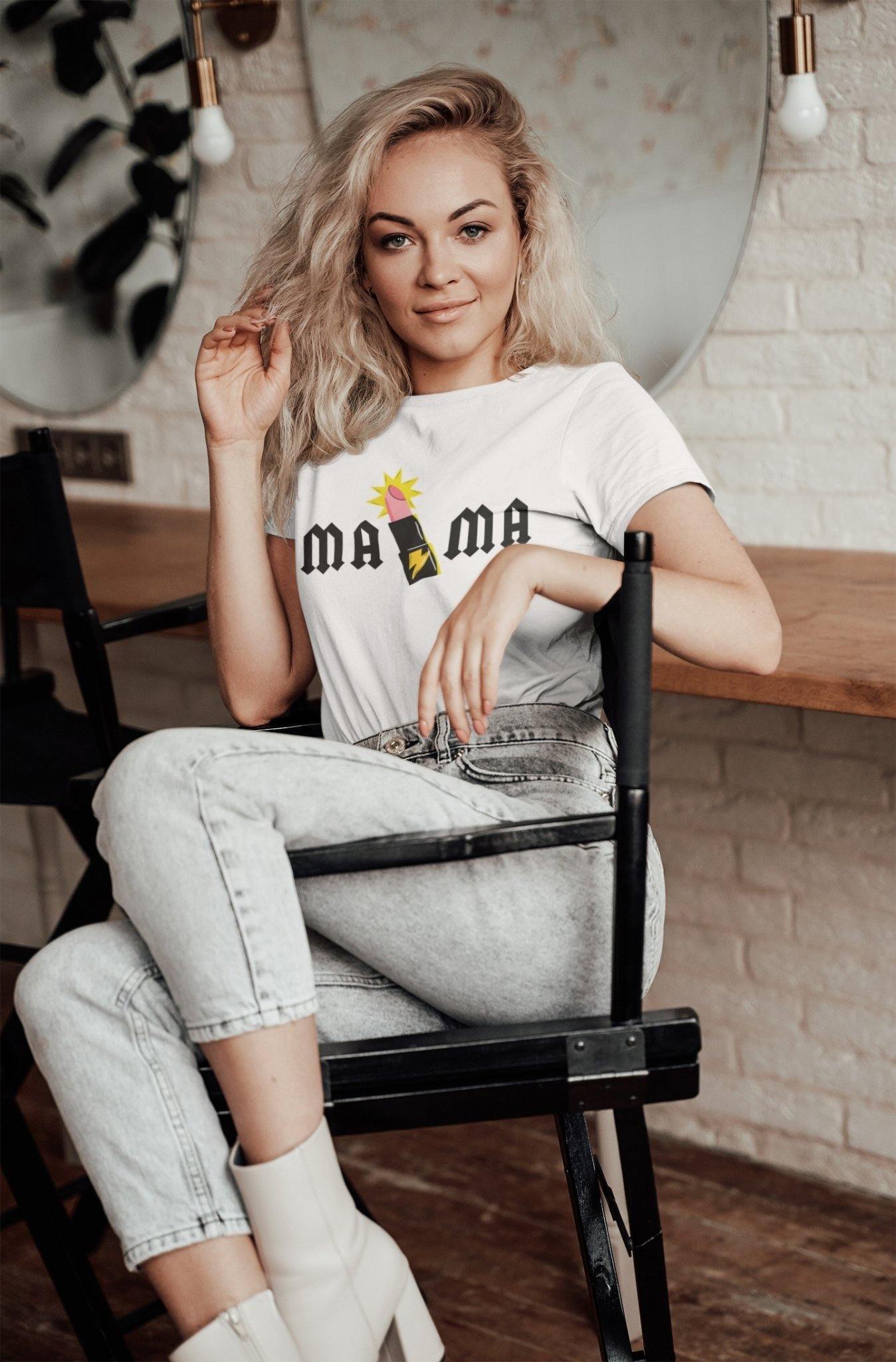 It's getting closer and closer to the holiday season! Over the years, we've come to realize that getting your shopping done for your loved ones is less stressful the sooner you get it out of the way! The problem is sometimes it's hard to find the perfect gifts for your family & friends! That's why every year we help you get some ideas with our Holiday Gift Guide! 
Calling all of those shopping for your cool mom in your life! This t-shirt is not only so stylish for the coolest of moms, but considering it's 100% Cotton, it's also super soft, durable, & well-insulated! You have the option of choosing a white or black tee, so find the one that fits her personality the most! She'll love this design and the comfortability of this tee! Whether she's at home having her morning coffee or out running errands, she'll love this practical and fashionable t-shirt! Did we mention this design is also on a sweatshirt and a metallic coated ceramic mug? You can get the best of all worlds for the rocker mom in your life!
Flower Power Vacuum-Insulated Bottle
An insulated & sleek water bottle is a great gift for any day and any time! This colorful design is on a black, teal, and white, which means you can pick the color that fits your loved one's personality! It's also scratch & fade-resistant bottle, so this awesome design will be here to stay and it'll look brand new for many years! It's also made to fit a standard drink holder, so it's great for on the go! Vacuum insulated, this bad guy can keep hot drinks steamy for 12 hours and cold drinks for 48 hours (yes--2 whole days!)! It's also condensation proof, so if it's being taken to the gym or on a camping trip, there won't have to be any stress about any slipping or sweating! Snatch this up for a great gift for the practical family or friend--and someone just hard to shop for!
The ideal amount of softness, toughness, and insulation, this 100% Cotton t-shirt is perfect for any dad! Being a dad is a full time job! He's always there for you, even with a text or call away! He'll love this t-shirt that he can wear any time of the year whether it's when he's had a long day working or just to remind him how much you love him! This shirt comes in Navy Blue, Athletic Grey, Black. and White so you can decide which color he'll love the most! This design is also on a 11oz and 15 oz ceramic mug for his morning coffee!
Monogram Collection Initial Necklace
We love these gold-dipped brass necklaces because they're a great gift for a family member, significant other, or your best friend! They also are a great statement necklace that can accessorize any type of outfit--dressy or casual! It's 16 inches with a 2 inch extender to make it a little longer!
What dog dad wouldn't love a cozy and cool dog dad t-shirt? Any dog dad (and maybe even a "The Godfather" fan) will love this cool soft t-shirt he can wear any time of day! No worries about being comfortable at the dog park or at home with a man's best friend! 100% cotton, this is a tough, the perfect amount of softness, well-insulated! It's also eco-friendly (just like the rest of our apparel)! Think he won't wear the t-shirt as much? This design is also on an embroidered hat, a black mug, and a hoodie!
Don't think we forgot about dog moms! You're just as important too! This soft, durable, well-insulated, & eco-friendly tee is perfect for any mom with a fur-baby! This comes in thirteen different colors, so there is a color for any personality! It's minimal, but cute design is great for any time of year and because of it's comfortability, it's a cozy one for home or on the go! Get this for the dog mom in your life! We know being a dog mom is a lot of work sometimes, but it's all worth it in the end! She deserves it! Our specialty colors are pebble brown & maroon--check those out here!
What's better than a mug for your loved ones that they can use all year that reminds them of how much you care about them? We love this 11 oz ceramic mug because it's perfect any time of the year for any warm beverage! With a sweet design and it not being your usual white mug, it's unique and you can be sure whoever you gift this to will feel appreciated! 
-We hope this helped you get some ideas and maybe even find the perfect gift for your family or friends!-